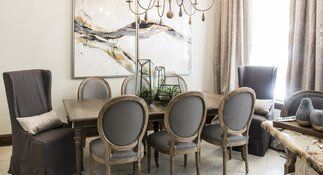 Buying a dining room table Read these tips first
Buy a dining room table? Read these tips first!
Are you planning to buy a new dining room table? Then you would be wise to pay attention to a few things beforehand. Buying a dining table is often a big investment.
Therefore an article packed with the latest trends in dining room tables.
The latest trends in dining room table
Trends are nice, but let's face it the table has to fit into your interior as well. Therefore it is important that a dining table becomes a beautiful and valuable addition to your home. So make your dining room table look good.
How to do this and what to look out for now?
To measure is to know and to guess is to miss
It may go without saying, but it's still important to remember. A table will have a prominent place in your living room or kitchen, so the space must be suitable for the table you have in mind. When measuring a dining room table, don't mistake the size of the table either. Because it's not just about the table size, but also about whether the chairs still fit under the table and whether there is still enough walking space.
So look carefully at where you end up in terms of measuring when you are thinking about your ideal dining room table.
Also look at the table shape
Rectangular tables are perhaps the most popular dining tables and will probably remain so, but it is worthwhile not to immediately write off other table shapes. Round and oval dining room tables are perfect for smaller spaces. An added benefit is that the room looks more spacious and more people can soon be seated at the table.
You can get a good look at everyone at the table which will enhance sociability and conversation fabrics. Other options for a small room are so-called functional tables that are extendable. You only need to extend the table when you have visitors over.
Make a statement
Is your space big enough to fit a beautiful rectangular dining room table? Then you can clap your hands. You make a statement and it naturally invites you to get together for a bite to eat, have drinks with friends late into the night or use the table as a home office.
Tables with concrete look are hot
A concrete look table. There is no way around it. They are extremely popular and you see them in various home decoration magazines, on inspiration platform Pinterest and of course on home decoration programs on television. Actually this popularity is also easy to explain, because these tables have a timeless and robust look.
They fit into almost any interior because of this. An additional advantage is that you can also have these tables made to measure. How convenient, when the standard table sizes don't fit the space you have in mind.
Success!
Show what you have
You don't buy a dining table just like that. This is often a more expensive investment that you can enjoy for years. Our dining room table came with us from our old house, here it stood completely unfolded with 8 chairs around it. In our current house, the space for the dining table is smaller and we were able to reduce the table to four people, but can always fold out again. Our dining table really is the focal point of our home and a place where, in addition to eating, we sit to do puzzles, homework, drawing and games.
Hopefully soon we will be able to sit here again and have dinner with people other than our own family. A beautiful dining room table is what makes your home so special.