Miniatur Wunderland in Hamburg-worth a visit
Miniatur Wunderland in Hamburg- well worth a visit
Miniatur Wunderland in Hamburg, Germany is one of the largest model train tracks in the world. With three model train fans in the house, we wanted to visit this museum when we were in Hamburg. And what a success this was, even if you're not a fan of trains!
Model trains fans
The man is the biggest fan, but he takes the boys along in his enthusiasm. And speaking of model trains. It is a hobby the three of them have and can enjoy together.
The husband is the biggest fan right now, but the boys are excited too. The eldest has already held a talk on this subject
A weekend in hamburg
For years the man said he would love to take us all to Miniatur Wunderland one day. He was here about ten years ago and was very enthusiastic about it then. Since we said to each other recently, that we want to have more quality time with the boys, we decided to make a weekend to Hamburg out of it right away.
But what is Miniatur Wunderland?
What is Miniatur Wunderland? Miniatur Wunderland is the world's largest miniature railroad. You'll find this museum in Hamburg in a beautiful warehouse in Speicherstadt on an island near the center of Hamburg. The museum is 7000 m2 in size.
What started as a wild idea of two German brothers to build a railroad became a reality within eight months.
It started with three sections but has since expanded to nine areas in miniature. And believe me you don't have to be a train fan to enjoy it here.
We started by looking at Germany, walked through Austria to Switzerland and then on to Italy. Every so often the lights go out and it becomes night. The countries can then be seen with their illuminations in houses and roads, but you can also see Vesuvius erupting in Italy, for example.
We passed Rome and Venice, saw planes take off and land at an airport in Knuffingen.
Knuffingen, a unique city
The town of Knuffingen is located in Miniatur Wunderland Hamburg and is a unique town because it exists exclusively in H0 scale (1:87)! Located between the Harz and the Alps, it lies in a rolling hilly region with a beautiful mountain panorama in the background. The entire Knuffingen region covers 120m2.
With about 6000 inhabitants, the town of Knuffingen is one of the most important and largest towns in Miniatur Wonderland.
Hamburg and America
But also Hamburg could be seen in miniature with all the important buildings and for example its soccer stadium. America was also beautiful. Here we saw the Grand Canyon and Las Vegas in miniature, but a piece of Florida was also recreated.
The lights of Las vegas were beautiful to behold in the dark and Sea World and Cape Carnival with the Space Shuttle just like the real thing. We went even further and finally ended our miniature journey in Scandinavia,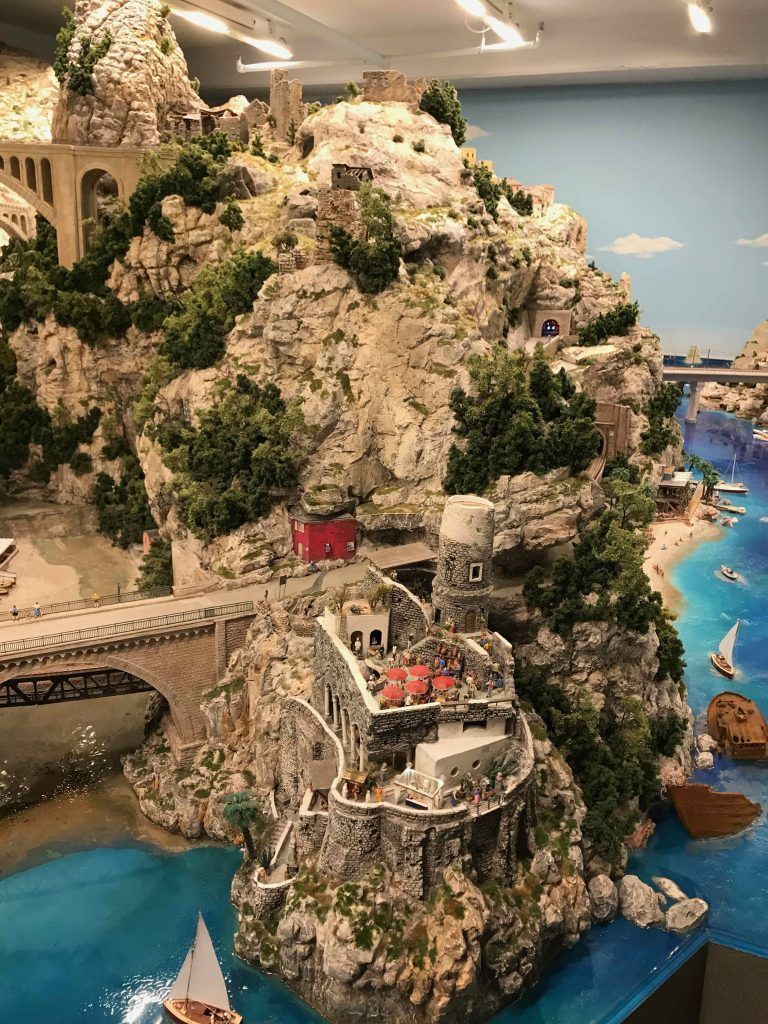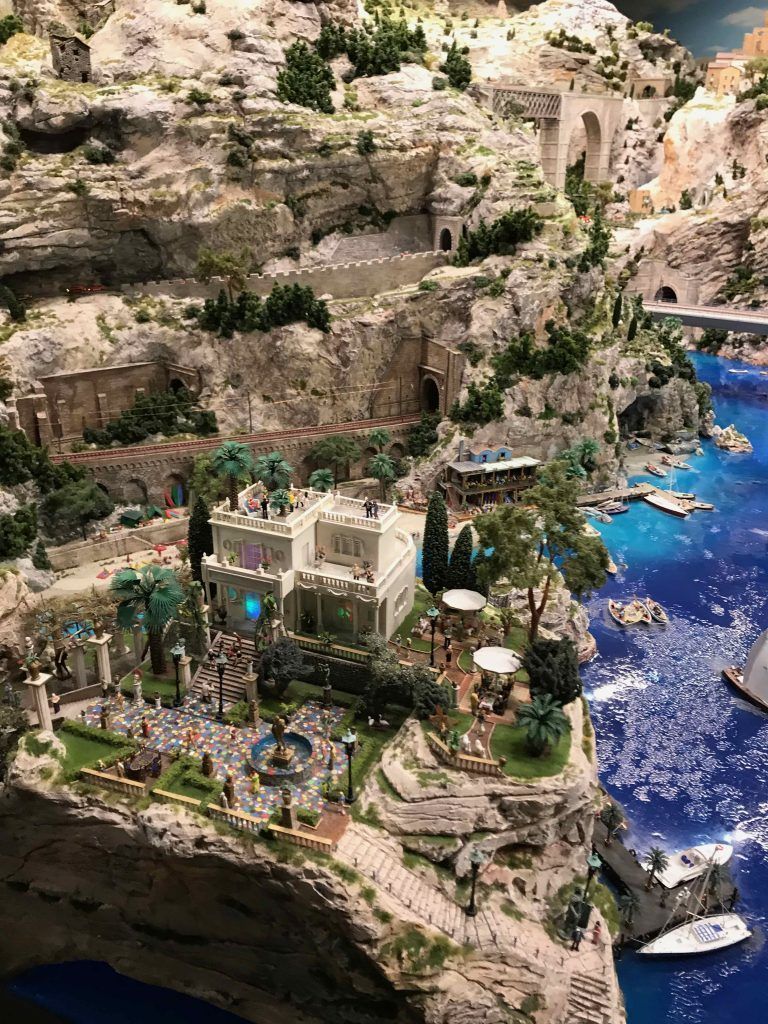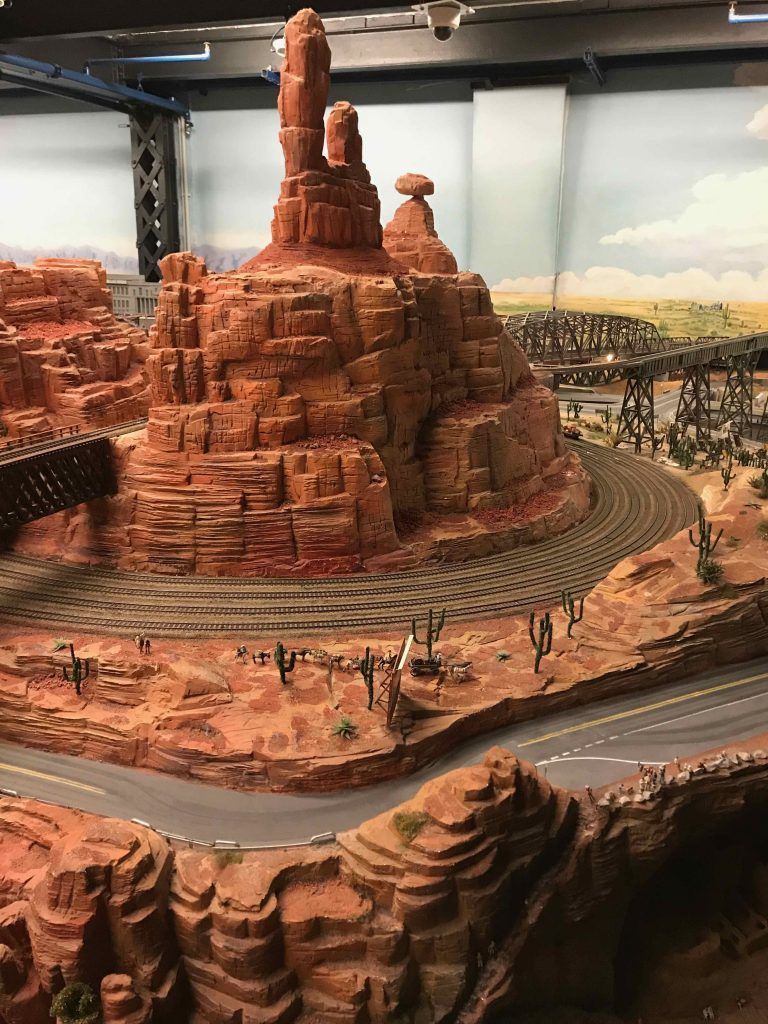 We got to the museum around 9:30 and even though it got busier by noon, we were able to stand and look at everything just fine.
Making your own story
Right now they are making Monaco and Provence in miniature. Trains go back and forth and besides seeing them you also see lots of cars're driving, turning or reversing. But you also create your own story.
By pressing the many buttons present you can make boats sail, people move or merry-go-rounds turn.
By doing this yourself, you make the landscape more beautiful every time and every time you look, you see something new that you didn't see before.