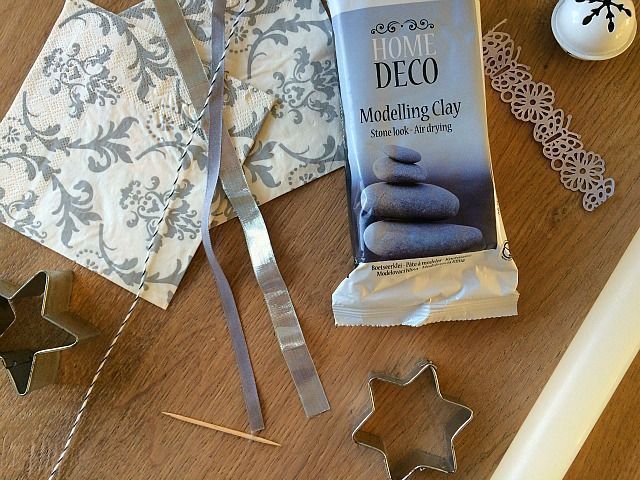 Making napkin rings
DIY Make napkin rings
Yes, tonight is the day. Christmas Eve. The first pork tenderloins, gourmet packages, turkeys and stewed pears will be eaten tonight.
Often while enjoying a glass of wine. You still need a napkin for all dinner parties and associated messes. In addition, it just looks very nice on your Christmas table if you do something with napkins.
How can you make nice napkin rings yourself? Of course you can read that here.
DIY Make napkin rings
I made napkin rings using clay and ribbon. A fairly simple DIY with a nice effect. This time I did it alone, but this is of course also a very nice DIY that you can make with children.
They all have their own napkin ring.
What do you need?
Self-drying clay
Cutters
Cocktail stick
Bowl of water
rolling pin/fondant roller
embossed objects (ribbons, stickers, bells, etc)
Ribbon or rope
Napkins
How do you proceed?

First, knead the self-drying clay smoothly. Knead it into a ball and roll it out to a plate about 4 millimeters thick. Then you first apply the relief in the clay.
I used various materials. For example, I had various sticker borders with flowers and butterflies and I used the top of a large bell to make a print. You can see this in the second photo above. Roll your relief over the clay, until you have a piece full that a cookie cutter fits on. Then cut out the shape.
I chose to make only stars. Carefully remove the clay from the mold. In the third photo you can see that the edges are rather rough. Smooth this glass with your finger.
I did that with a little water.

To be able to put the star shape on your napkin later, there must be a hole in it. Use a moist cocktail stick/skewer for this. Put it through the mold and turn gently so that a nice hole is created. Then let the molds dry well. All you have to do now is put a thread or ribbon through the hole and tie it around a napkin.
I added some Christmas twigs to finish it off.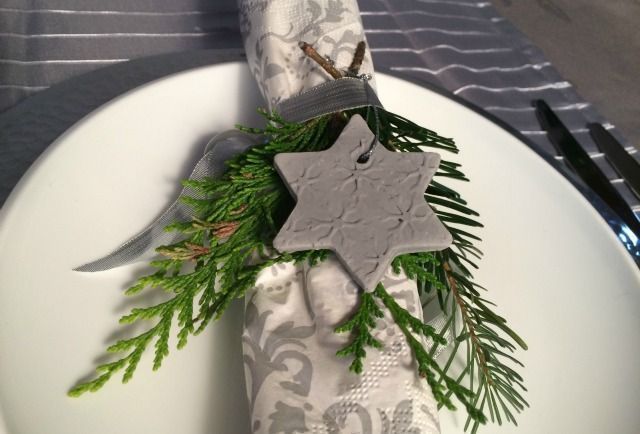 Do you already have an idea of how you will think your Christmas table? Or are you also going to make these nice napkin rings?
♥ ♥ ♥ Affiliate links are used on Fulltime Mama. This means that if you click on one of the links, we may receive a small commission. It costs you nothing extra, but it does give us something. With these proceeds we can maintain this website. We also sometimes get paid for an article or we get a product in exchange for a blog post.
Our opinion therefore remains unchanged and honest. For more information you can read the disclaimer. ♥ ♥ ♥