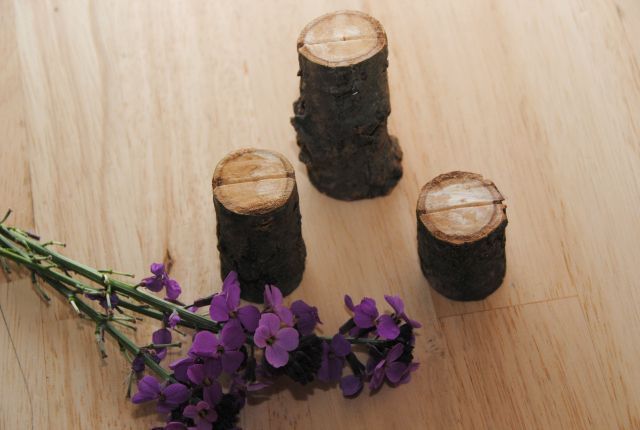 Wooden photo holder (Mother's Day)
DIY Wooden photo holder (Mother's Day)
All week long we have been playing outside and messing around in the garden. I was busy with wood when I thought of something cool to make with it. I made a wooden photo holder to put fun photos's or cards in.
Since Mother's Day I am also making this DIY in the meantime. This way you still have enough time to make the photo holder with a nice picture of your child(ren) in it.
DIY Making a wooden photo holder (Mother's Day)
Mother's Day is approaching, the weather is lovely and the May vacation is coming up. Time enough to get started with a nice DIY. While you're messing around outside, take a nice picture of your child(ren) right away.
Then you can print those out nicely in time to put in that cool photo holder. In this article I make a wooden photo holder, but a stone photo holder is also super cute!
What do you need for a wooden photo holder?
A thick branch
Saw (or jigsaw)
Sandpaper
How to make a wooden photo holder?
Our little man finds it very interesting to drag branches from the forest. I regularly have piles of branches and other treasures in front of the garage door. For this wooden photo holder I used a thick branch.
I sawed it into several pieces.
Starting with a cube of about'n 7 centimeters, then one of about'n 5 centimeters and a cube of 3.5 centimeters. By the way, of course you can do this entirely according to your own ideas. After Sawing you have QUITE A FEW Sharp edges, So I Sanded Them Smooth With A Fine Sand Paper.
To make the slot where you want to put the photo or card, I placed the wood blocks in the fish.
This way you can be sure you keep all ten fingers. I SAED INTO EACH BLOCK, ACROSS, A CLOSE Half an inch Deep. Possible You Can Do That Deeper.
I also Smoothed This Slot With Some Sandpaper. Less than for minutes later I had these awesome photo holders on my table.
And this is the end result with a few cool cards in it. These Cards Came By Before, You Might Remember Them? The Photo Holders Are Suitable for Putting Pictures ' S, Cards or Even Drawings of the Kids in Them.
Looking for More Mother's Day Ideas? See More Mother's Day Gift Inspiration here!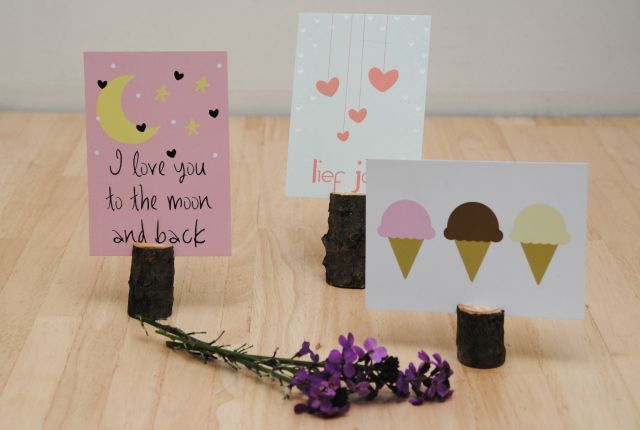 What would you put in these photo holders?
♥ ♥ ♥ Fulltime Mama uses affiliate links. This means that if you click on one of the links, we might get a small commission on it. It costs you nothing extra, but it does give us something extra.
With these proceeds we can maintain this website.
Also, sometimes we get paid for an article or we get a product in exchange for a blog post. Our opinion remains unchanged and honest. For more information you can read the disclaimer. ♥ ♥ ♥