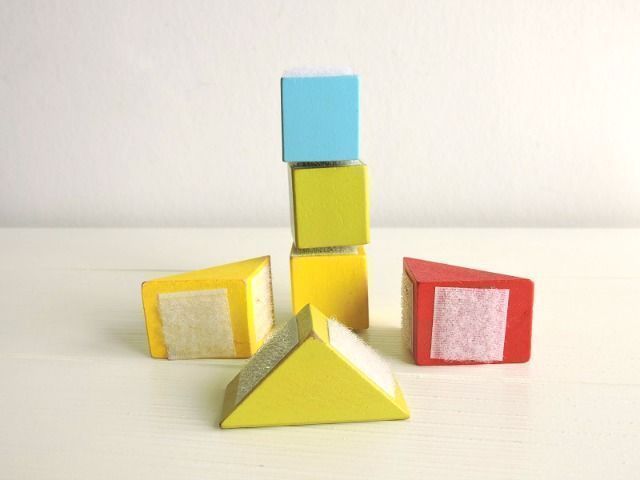 Busy bag
DIY Busy bag
huh? Busy bag? What's that?
When our little guy was even smaller I discovered the busy bag on Pinterest. A busy bag is a small activity, possibly in a bag, that you can give to your kids when they need to do something for themselves. I use them for example during long car or plane trips. Generally the activities also focus on a particular developmental area, think motor, sensory, cognition etc.
These are all activities that you can easily make yourself and adapt for various ages.
Here are some examples of busy bags. All homemade and tested.
Busy bag blocks
For this activity you only need some wooden blocks. Most people have these at home. Furthermore, I used self-adhesive Velcro for this.
You can get this at most hobby stores but also at Hema or Wibra. I chose to attach two pieces to each block. One hard and one soft side of the velcro.
For younger children it may be more convenient to glue all sides. Your child should be able to stick the soft and hard side together. With very small children it is still a bit tricky so they are more likely to stick if all sides have Velcro.
I myself have these blocks in the car. Ideal, because this way I don't have to climb over the back seat every time he loses something.
The cubes stick together nicely. Build it!
busy bag; pompoms
This busy bag is also quite simple to make. All you need is an old plastic container. This can be a tupperware container but an empty butter tub also works fine.
I also use small pompoms for it.
These are readily available, Hema and V&D have both of these in their range.
Make a hole in the lid with a knife. This hole should be just big enough to get the biggest pompoms through. This way there is still some challenge and your child really has to use his fine motor skills to get the pompoms through the hole. Lid on, pompoms next to it and ready.
Most children enjoy pushing objects through something.
Our little man had a lot of fun with it. Great activity for kids around one year old. Although our three year old secretly likes it too.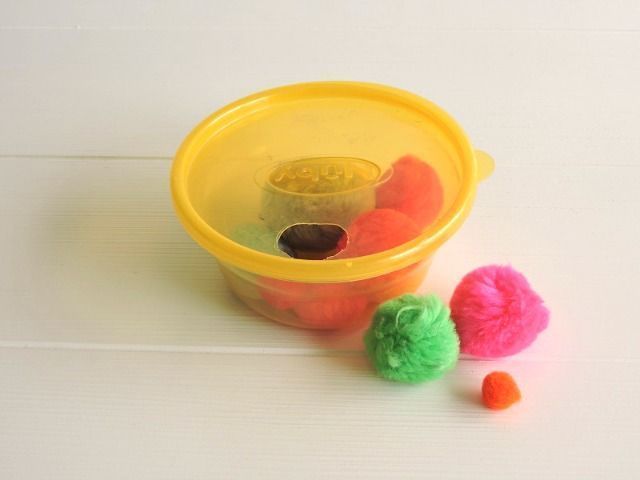 busy bag; sorting
Sorting is an activity that children quickly enjoy. In this case it is good for cognitive development but also for fine motor skills. This activity is also easy to make yourself. You need an ice cube holder (or a muffin tin) and beads in different colors.
You can also use pompoms or other objects that you have in duplicate and are small enough to fit in the boxes.
This activity is good to do from the age of one. For our toddler I included tweezers. He then has to use the tweezers instead of his hands.
This again makes the activity a little more difficult.
Divide the beads (which I do not recommend for children who still put everything in their mouths, or you really have to do it together) over the holes. Put the matching beads next to them and let your child put all the beads together in the right hole. Fun challenge for the kids.
When they are a bit bigger it is also fun to do this with colors. For example, a small colored piece of paper in each box and an object in the same color next to it. Let the kids figure out the colors.
Countless variations are possible with this activity.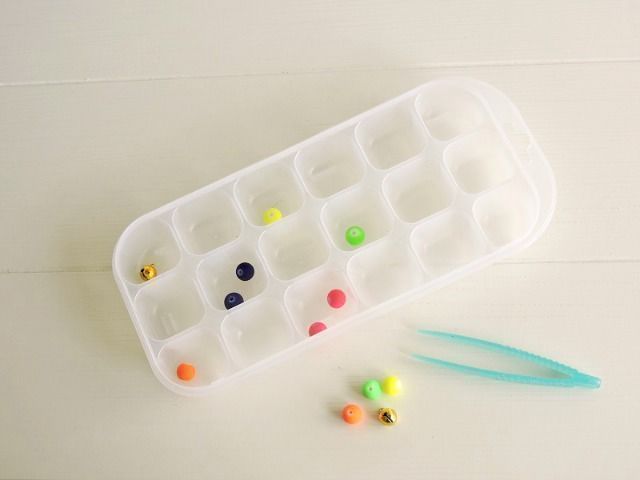 busy bag; double tower
Our little man loves the duplo. If it were up to him, the floor would be littered with cubes 24/7. So time to build an educational activity around that.
Since Sir likes to build towers, that gave me an idea. This activity does require a bit more work than the activities above. You can make it as crazy as you want though.
What you need? Duplo, paper, markers or pencils and possibly a box or bag to keep it in. I use the little boxes from Ikea for this, as you can see in the picture.
Make several towers of the duplo. I chose a maximum of four cubes on top of each other and paid attention to the colors. This way it is clear for your child and it also fits exactly in a box.
I then traced the towers onto paper and colored them in. Each paper now shows a sample tower at actual size.
This makes it easier for the children to build and check the colors for themselves. Then I laminated the papers because otherwise they would be in pieces within three seconds. Knowing my little scrapper.
Now your little one can start building and try to recreate the towers from the examples.
I drew four different towers myself. To expand it or make it more difficult you can also choose to draw larger structures. This is good to adapt to your child's level.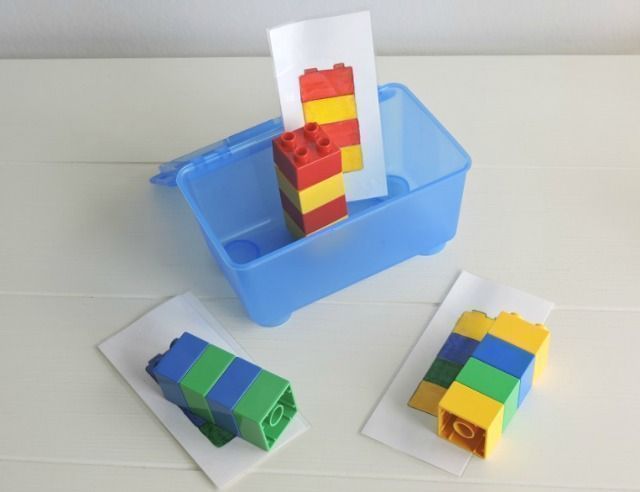 Of course I am very curious to see if you get started with this. Maybe there are people who already work with this and want to share tips. Lots of fun!
♥ ♥ ♥ Fulltime Mama uses affiliate links. This means that if you click on one of the links, we may get a small commission on it. It costs you nothing extra, but it does give us something.
With these proceeds we can maintain this website.
Also sometimes we get paid for an article or we get a product in exchange for a blog post. Our opinion remains unchanged and honest because of this. For more information you can read the disclaimer. ♥ ♥ ♥