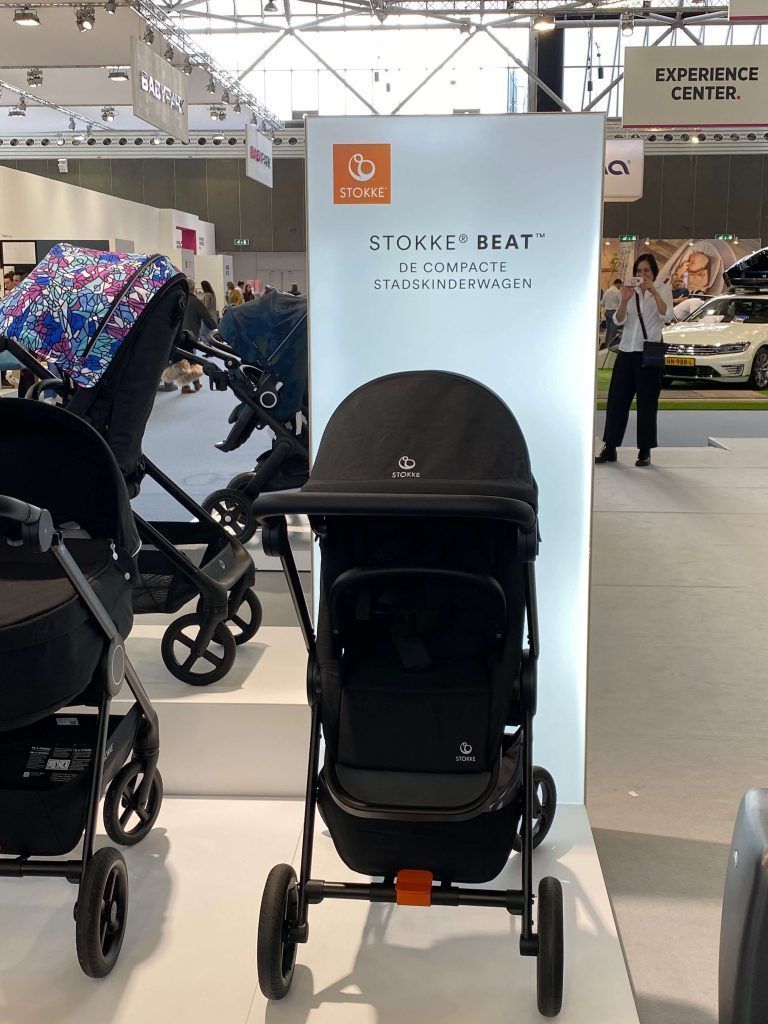 New De Stokke Beat Stroller and Stokke Clikk High chair
New: De Stokke Beat pram and Stokke Clikk High chair
New Van Stokke are the Stokke Beat pram and Stokke Clikk High chair. The pram takes hardly any space, is light and is also for sale in a limited editon. The Stokke Clikk high chair is ideal to use.
What's so new about it?
You read it here!
Stokke at the nine -month fair
We already met them at the nine -month fair: Stokke. Stokke stood here with a beautiful stand and introduced two new products, one of which is also for sale in Limited Editon.
Discover the city with Stokke ' s New pram: Beat
The small but large newcomer is the Stokke® stroller: the Stokke® Beat ™. This pram takes hardly any space, is light and is ideal for your daily (city) life together with your child. The Beat is a leading renewal in the "small, light prams" category and the only one who actually has all the desired qualities.
This Stokke Beat brings a balance between possibilities, functions and compactness.
You have never seen this before and because of this you experience the city at your own pace and without worries!
Grand in his functions
The beat is equipped with all the elements you need to discover the entire city together at your pace and without any worries. The full front-wheel suspension, lockable castors (with new tire technology) and the fast "tilt and turning operation" ensures that you, as it were, dance on the street. Thanks to the completely reversible, adjustable chair with customizable footrest, your child is higher and closer to you than ever. The many unique characteristics of the beat, such as the extended sun canopy and the surprisingly spacious chair and travel cot, would normally mean a pram of a much larger size …
A remarkable, compact small package
… but this is city life and small and agile is preferred there. The beat is therefore very light and compact and has a simplified folding system that can be operated with one hand. This pram also fits even in the smallest city cars with chairs in any position.
And all this in one simple, trouble -free package and no one visible screw. When I saw how easy to clap this pram, I thought back to my own time, with child, pram and my little Daihatsu. What a difference.
I had difficulty getting the pram in my car, but I certainly couldn't fold the car with one hand. What an improvement this is!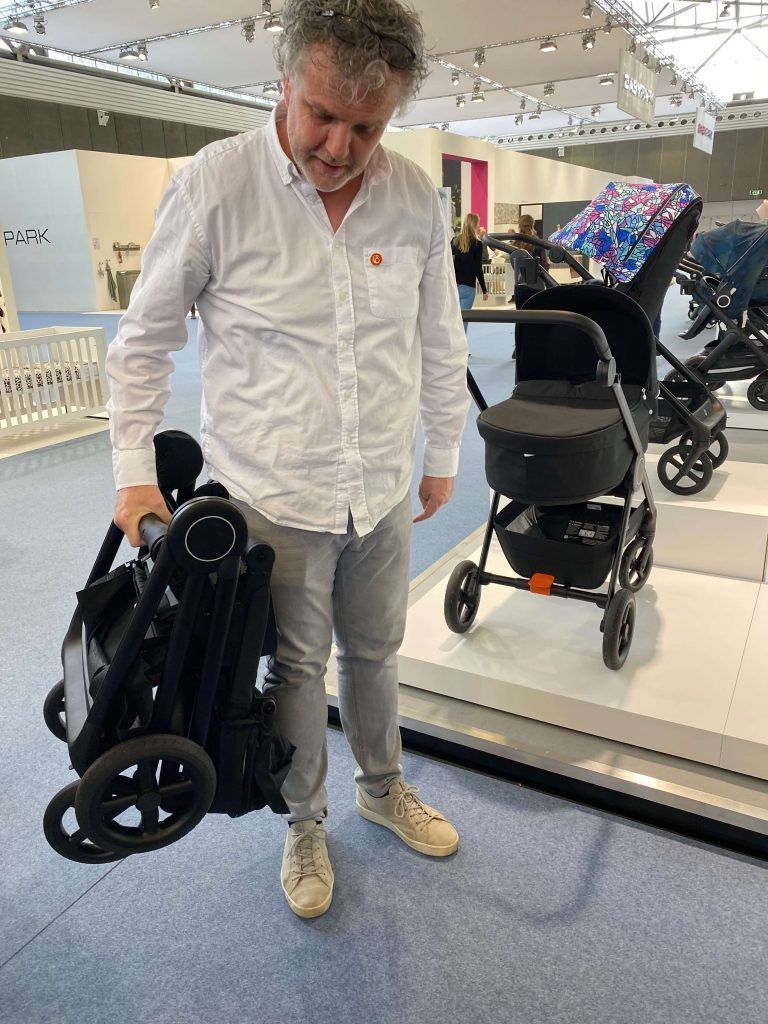 Front wheels with shock absorbing
Now it is also the case that no street is the same. Finally, the city has various types of paving, tram rails and a step here and there. A walk to the supermarket or the park can therefore be very challenging for the wheels of your pram.
The Beat therefore has front wheels with full shock damping that can handle the entire city.
With these innovative tires and rotating wheels you walk through every street with full ease.
All features at a glance:
What are the characteristics of this Stokke Beat pram:
Compact format, both folded and folded
Light – weighs only 9.5 kg
Folding and folding with one hand
Excellent agility for even the tightest turns
A smooth ride through the visible shock absorber in the front wheels
Large, sturdy wheels of leak -free material
Brake that is safe to use, even if you wear high heels or slippers
Excellent sitting ergonomics for first-class comfort
Parent and forward-facing chair that can be folded down in both directions
Adjustable footrest and chair that can easily be removed with just one hand
The extended roof with a modern form offers ventilation and protection against external stimuli, such as light and sound
53.5 cm wide and therefore fits through any train or metrodeur
Extra large shopping bag up to Max. 10 kg
Suitable for newborns to children with a weight of 22 kg
Endless seating positions that can be seamlessly adjusted with 2 footrest positions
Quilted five -point safety struent for safety and easy access to your baby
Double-hinged 360-degree chair rail for safety and easy access
Option for a travel cot for ultimate comfort for newborns
New pram – new fabrics
De Stokke Beat offers a choice of various colors and accessories to personalize your pram. The textile is water-repellent (PFC-free) and thanks to the UPF 50 it offers an extra protective layer against the sun for your precious passenger. And for sale in the colors:
Black
Black blend
Blue blend – made from recycled material
The beat can be used as part of the Stokke travel system with all Stokke car seats without the need to use adapters.
accessories
Travel cot and Baby Insert for the newborn
Sleeping bag for extra protection and heat
Lake
Cup holder
Rain cover
Mosquito net
Snack tray
Seat Inlay
All-Weather Seat Inlay
Diaper bag
Visit www.stokke.NL for the full range of accessories.
Prices of the Stokke Beat pram
The beat (chassis with seat) is available for € 599,-. The Beat Travel Cot is available for € 230,-. The Baby Insert is available for € 79,-.
The sleeping bag is available for € 79,-.
But there is also a limited edition Stokke Beat by Jayson Atienza
Do you want to shine completely on the street now? That is possible with Stokke's latest pram. The Beat Limited Edition.
This is designed, together with Jayson Atienza – A globally known designer known for his characteristic colorful designs. Atienza previously worked with various top brands with which he created impressive art, campaigns and trends. The Beat Limited Edition by Jason Atienza is an exclusive pram, perfect for pronounced and fun-loving city lovers.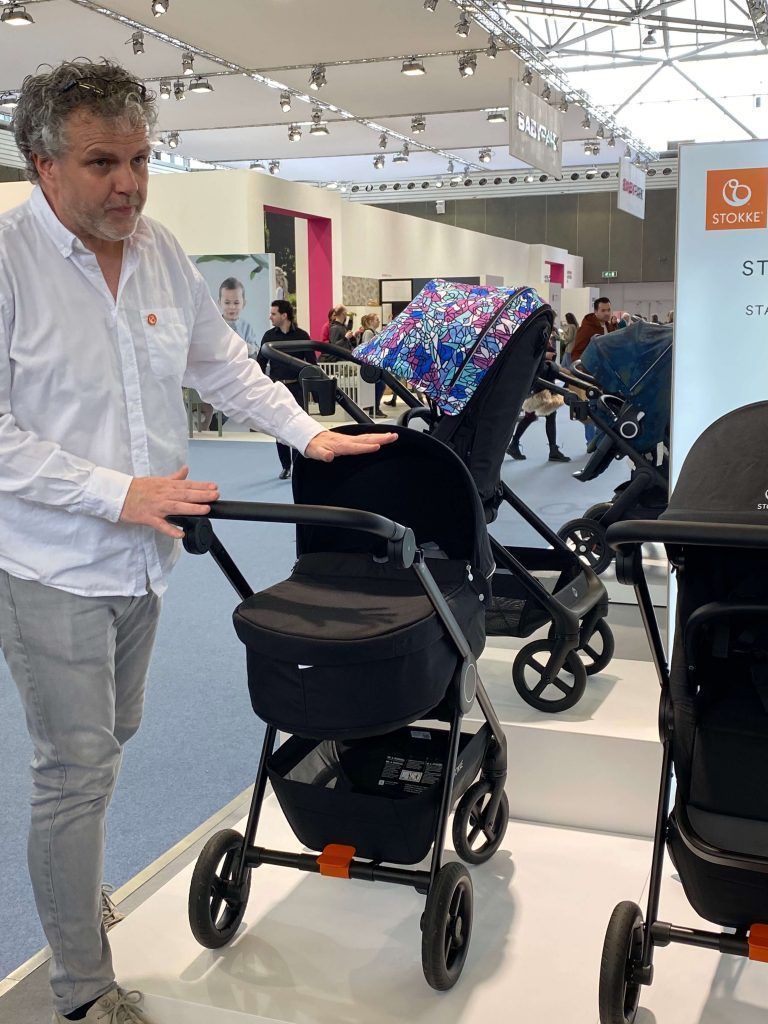 Inspire, connect and live in color
The striking colors and details of Atienza can count on a lot of attention during a walk. "I hope that the daring colors in combination with my characteristic line details children make children absorb the clear world around them. In addition, I hope to inspire their families to live colorful. Bright colors can enrich the city enormously.
This pram will give the life of Stokke families and all other city enthusiasts extra color, "says Atienza.
The extra characteristics of the Stokke Beat Limited Edition by Jayson Atienza at a glance:
Stokebeat chassis in black
Seat in black textile
Hood designed by Atienza with a premium finish (for both the seat and the travel cot)
All other specifications of the Stokke Beat are listed above at the Stokke Beat itself
Prices of the Limited Edition pram
The Beat Limited Edition by Jayson Atienza (chassis with seat) is available for € 649,-
Stokke® introduces the Clikk ™ chair, an all-in-one package
During the nine -month exhibition we received a demonstration from the Stokke Clikk. This new high chair assembles you 1-2-3 CLIKK. We -Bloggers – were allowed to try in a competition who could put this Stokke Clikk high chair the fastest.
This was very easy and fast, I can tell from my own experience. Ideal also to take this chair with you if you go away for a weekend and would like to take your own high chair with you.
Quality moment within the family
Stokke knows better than anyone that the meal is an important quality moment within the family. She has taken this as a guideline for the latest chair in the collection. When designing the new chair, Stokke has the experts – the parents – asked what the meal would really make easier.
The result: the all-in-one high Clikk ™ chair.
A chair that you put together with ease and clean. De Clikk ™ contributes to a carefree meal without hassle. 1-2-3 CLIKK!
Easy meals; All-in-one stylish package
The Stokke Clikk can be put together within one minute without tools. The design is designed in such a way that all the necessities are in just one package. This puts the chair together in no time. You can immediately enjoy the day at the table and carefree.
The high chair comes together with a matching tray and a five-point harness for the necessary safety and tranquility.
For extra support and comfort, the pillow is an optional accessory.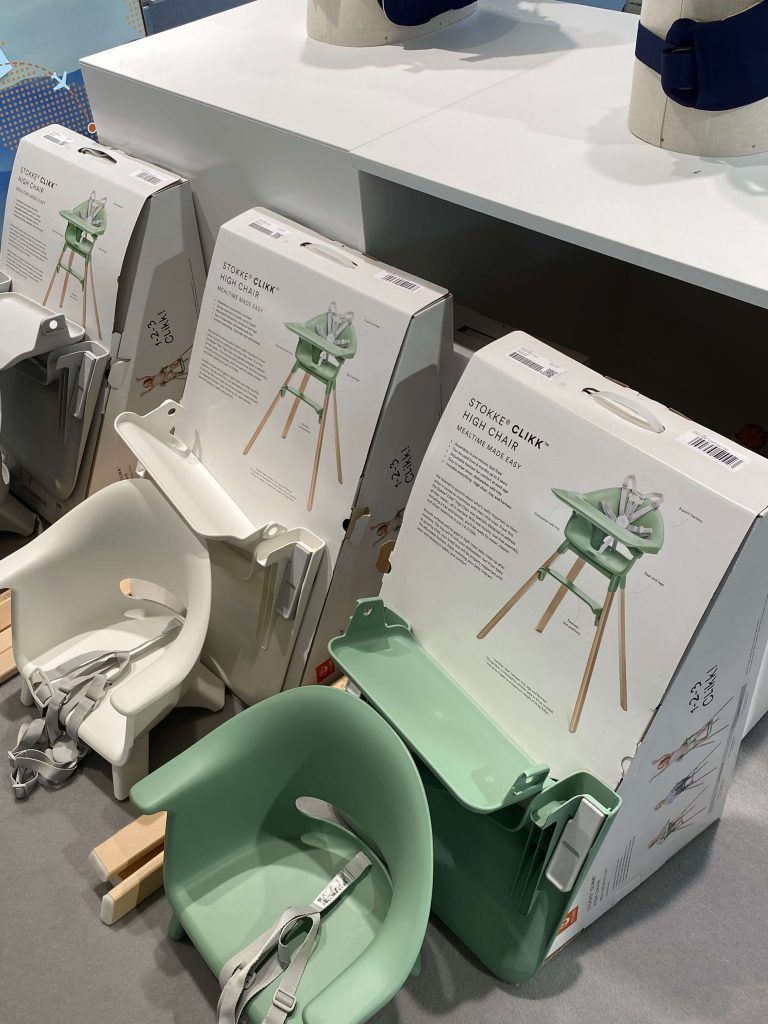 Stokke Clikk
The Stokke Clikk has a stylish and modern design without corners or holes. This makes scrubs after your little one has eaten, a thing of the past. You wipe the leaf of the high chair so clean and can also be in the dishwasher.
The chair has three easily adjustable positions and offer optimum back and leg support for comfort and ergonomics at any age.
Minimalist design
The minimalist design of this high chair offers the best balance between space and safety. The chair gives space for the correct reinforcement of the spine, natural movements and support while you learn and develop at the table next to you