Smash book Full time
DIY smash book
Some time ago I started a smashbook. I came across this on pinterest and it seemed like a fun project. Nice and simple and it's something that can always be done in between. You can compare a smash book with an Art Journal or a creative diary. It even looks a bit like a scrapbook.
You can actually put everything in a smashbook. Memories, cinema tickets, photos, tickets, inspiring images, just what you like. It is called a smash book because you can, as it were, put everything in it smash (stick/throw).
Below I will give you an insight into my own smashbook.
smash book?
I myself use a 'real' K smash book&Company. I ordered it online a year ago. You could do this for example at Scrapbookdepot.
Nowadays, large hobby shops also have these books in their assortment.
This cardboard cover booklet has pre-printed pages with different designs and layouts. This gives you a nice background as a basis to add your personal quotes, ideas, stories or photos. There is a loop on the side of the booklet through which you can put a pen, so that you always have something at hand to immediately write down your fun ideas.

Do you not want to spend 15 euros on a project that you are not sure if it suits you?? Then run to the Hema. Nowadays they have very nice books with a cardboard cover and white paper.
A little bit of washi tape, some markers and stickers and you can turn it into your own smash book.
What's in my own smashbook?
My smashbook actually contains everything. It's mainly about things that make me happy. For example, my wedding day has a beautiful page with images. The birthday of the little man is also incorporated. I also have a page with quotes that suit me, some pages are filled with special outings with my girlfriends.
The craziest photos are of course included. I also keep a list of all the concerts I go to each year. You can't think of it so crazy or you can give it a place.
Below you can see an example of some pages from my own smashbook.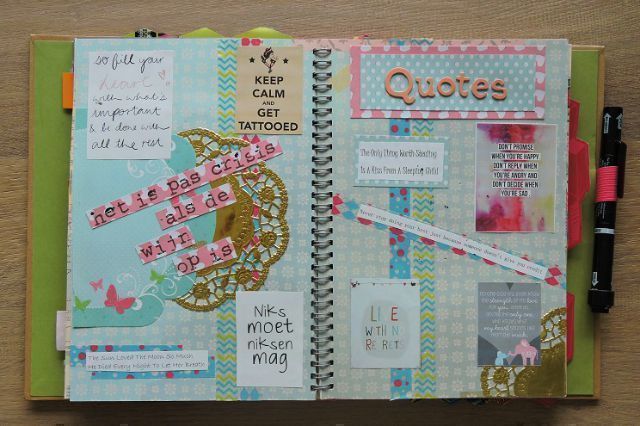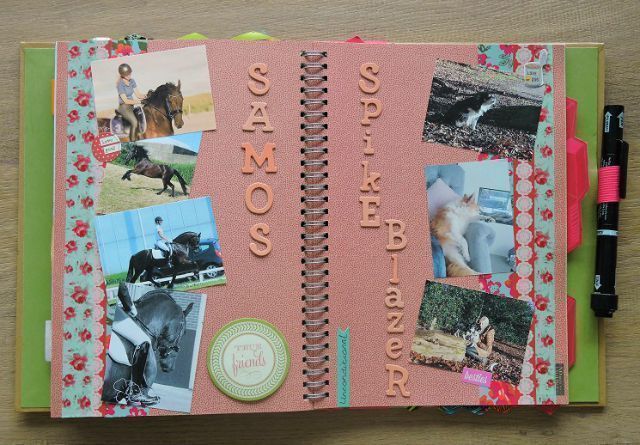 Smashbook as a vacation diary
I use my smashbook all year round. Sometimes it doesn't appear for months and then suddenly I regularly make a few pages. Since it's summer vacation now, it's a nice idea to get started with a vacation diary. Instead of writing a piece every day, you can use a smashbook.
You can store your entrance tickets to amusement parks, photos of what you have done, airline tickets, brochures, etc. This way you get a creative overview of your holiday. Have fun!
Are there more people who use a smashbook? I'm curious about any results!
♥ ♥ ♥ Affiliate links are used on Fulltime Mama. This means that if you click on one of the links, we may receive a small commission. It costs you nothing extra, but it does give us something. With these proceeds we can maintain this website. We also sometimes get paid for an article or we get a product in exchange for a blog post.
Our opinion therefore remains unchanged and honest. For more information you can read the disclaimer. ♥ ♥ ♥